Hotel Technologies to Meet Different Guest Expectations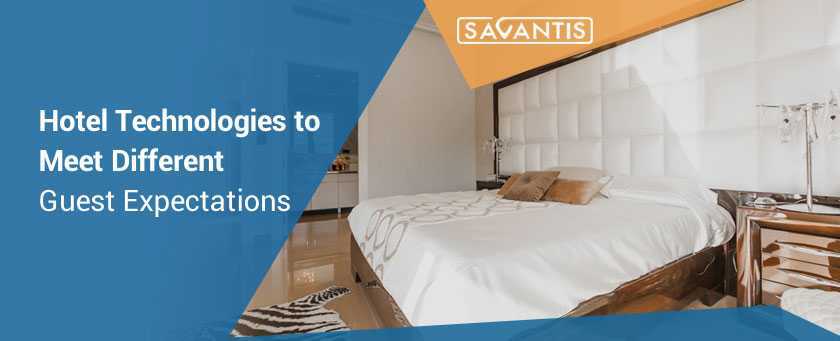 One-size-fits-all approach for the hospitality industry can no longer yield a positive guest experience. Different kinds of customers have different expectations, choices, and preferences. With the primary focus of the hospitality industry being the customer experience, what does the hotel need to do to keep their guests happy and retain loyalty?
Most brands these days follow a pattern of generational marketing, but with travel being more customer-centric than most, how do you cater to a baby boomer and a millennial at the same time?
What do all guests want?
While different travellers want different things, they also want the same things. Free WiFi is as much a requirement as clean sheets these days. Check your WiFi regularly so that the speed is optimized. While each person could be using the WiFi for different reasons, they will all be using it, given that mobile devices are omnipresent today.
With international travellers increasing by the day, understanding etiquette and keeping in mind religious requirements, such as providing prayer rooms or finding out where they can practice their faith in your locality through an app will be a great way to get started. Having a flexible menu catering to different cuisines will allow for time to settle in.
Although English is very nearly ubiquitous, having a translator both at the reception and on your site through a multilingual chatbot or simple site-wide translators will enable faster and smoother resolution of queries. Bonus points if you can provide different currencies and multiple payment options to process bookings faster.
Leisure travellers tend to go by recommendations more than business travellers and would love extra on-site hotel facilities. They tend to be price sensitive and splurge on experiences rather than accommodation. So, offering a unique experience will be a hit.
Keeping in line with language, offering translated versions of your menu, city maps and important aids will make them feel more at ease in a foreign location. In addition, offering myriad channels gives them the option of catching up on familiar shows, movies, and news networks.
How an experience works or what will be enjoyable within that experience will vary significantly depending on which end of the age spectrum the guest is at, and their sartorial choices and reasons for travel. So, how can the hospitality industry prioritize the digital experience so that each person gets what they want?
Truly personalizing the entire experience will require hotels investing more in their digital infrastructure. While this may seem counterintuitive, part of the process of digital transformation is increasing efficiency. Integrating and maintaining new technologies, requires resources.
As the hospitality industry seeks to flesh out their guest-facing digital repertoire, it is essential to get to the crux of the situation. Begin with which guests matter most to the bottom line, what you know about them, and then determine your priorities from there.
Families
This group consists of people spanning multiple generations. If travelling with children, their demands and needs will be greater. Mobile check-ins will make the process easier and beats waiting in line with a child cranky from travel. In-room services are highly sought after here, as children need naps and may have dietary requirements. Being able to order room service via mobile devices or text the front regarding any special requirements will go a long way in making their stay more comfortable.
Couples
Couples, particularly from the millennial and Gen X groups, travelling for a short getaway is on the rise. These travellers are incredibly tech savvy and being on a short trip, they make use of any and all digital platforms present for their stay to be more seamless. Studies show at least one partner would have downloaded the hotel app which is why offering discounts, deals, and experiences through push notifications would see positive response.
Business travellers
This is another category that spans generations and are the most likely to sign up for loyalty programs. Location is primary and they expect good WiFi and a strong digital presence. They want mobile check-ins and room service. While more senior businessmen prefer to engage with the front desk in person, millennials prefer interacting through a screen. They will engage digitally and having an intuitive, intelligent app will go a long way in creating return customers. Studies show that business travellers often splurge on room service, particularly if their company is buying. Providing necessary amenities such as a coffee machine, ironing board, continental breakfast allows them to focus on their work, making you the silent partner that has their back.
Independent Solo
Understanding the reason behind solo travelling helps in determining what to offer the guest. Are they here to explore the city, visit friends or family? They are likely to be more price sensitive and are always on the lookout for deals and discounts. Some targeted marketing will ensure they find what they are looking for based on their interests and budget. Push notifications about the spa facilities available or an exhibition at a nearby museum will be a hit as they tend to have a lot of time to explore.
Retirees
This category prefers engaging in person and isn't very tech savvy. They tend to prefer traditional methods and see mobile devices as a convenience, not a lifestyle. They may enjoy texting, using several applications and would prefer options of mobile check-ins and mobile keys. Some of these technologies might serve all travellers while others are less ubiquitous.
Bottomline
Collecting customer data and leveraging it is rather imperative for hospitality providers in this digital age. Every guest that walks in expects to be treated with highly individualized offerings. Creating that kind of hyper-personalization is the final goal but you can start by segmenting their guests and providing relevant offerings.
Understanding your top guest segments helps you prioritize your capabilities. And leveraging technology will help increase your efficiency, bringing in more guests and more revenue. Improving guest experience through personalization is undoubtedly a competitive advantage today.
At Savantis, we help hospitality providers embark on a digital transformation journey to enable a personalized guest experience. We leverage intelligent solutions like SAP S/4HANA and our omnichannel customer engagement platform – SAMMY. Please feel free to get in touch with one of our experts if you have any questions.