How Cinema Chains Can Respond to New Industry Trends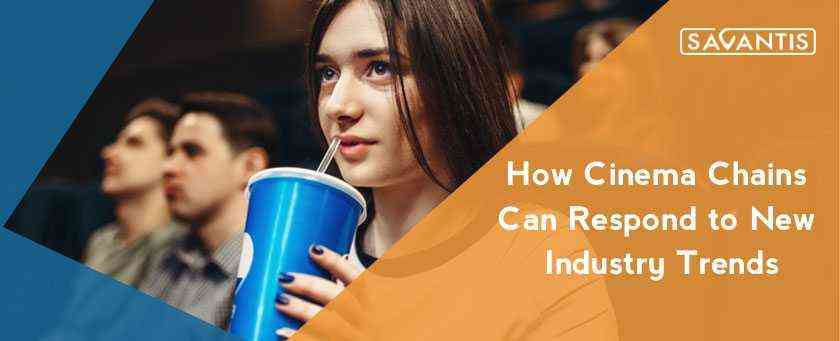 Current Trends in the cinema industry
Empowered viewers
With several entertainment options available such as video on demand, customized to suit their schedule, viewers do not want to be tied to a specific place and time for a movie. Increasing social media trends such as "Hygge" and "JOMO" make it very difficult to entice viewers to get off their couch to watch movies. This is compounded by digitally aware customers who demand personalization.
New competitors
Over the years, technological advances enabled the development of radio, TV, video players and so on, all of which were in competition with cinema. Video on demand is by far the biggest threat to cinemas at the moment. Customers pay nearly $2 billion per month for subscription video services. Another technology growing at an astronomical rate is VR expected to reach $33 billion by 2022.
New business models
Reinventing business models, using multiple touchpoints for communication, adaptation of emerging technologies such as big data, AI/ML for more sophisticated service, helps cater to modern customer expectations of personalization. Unlimited subscriptions allow customers to watch any number of movies and pay per month. PVR cinemas in India has launched Vkaoo, with remarkable success, based on the theatre on demand model, allowing screening of movies of your choice, at the date and time of your choosing.
Established fan bases
With franchises like Avengers becoming a household name, studios are very keen to use existing IPs for further movies based off superheroes or books as they are safer investments. Cinema focuses on everything from education and medicine, to rehabilitation and politics, to culture and heritage. With people and ideologies changing, cinema must keep pace.
How cinema chains can respond to these trends
Single view of customer for better outreach
In order to reach out with personalized and relevant messages, cinemas need to have an integrated view of each customer that captures all interactions, analyzes their behaviour and stores the data (movies and seats they prefer, snacks they like etc.) in a central system.
Such a system, will allow segmentation of customer base and target each person separately, with more nuanced insight. This in turn will enable recommending the best content at the right moment, specific to each person.
Loyalty
Why would a customer visit a particular cinema chain when the same movies are usually available across chains? Creating a loyalty program differentiates you from competition, keeps customers coming back. A paid loyalty program personalized by intuitive systems like SAP S/4HANA will drive higher spend and satisfaction.
Loyalty programs should reward not only purchases but also engagement and gamification. Offering a forum/portal for aggregation of cinephiles, not just for tickets, helps foster more interest in the movie experience. Offering subscriptions for unlimited screening is a way to retain loyalty.
Flexible Platform
In order to be able to quickly respond to new trends, cinema chains need a flexible customer engagement platform. It should be simple, and users should be able to operate and make changes without IT support. It should be easy to implement new business models and quickly correct if not successful, with support for subscriptions, ticketing and concessions.
The SAP Predictive analysis helps launch and follow targeted marketing campaigns with higher success rates through its ability to analyze patterns in real time.
Omnichannel Engagement
Movie-goers today want a consistent experience across all channels. Incorporating social selling through social media channels, offering rewards with purchase has a great reach. The platform used should support online portal, kiosks and concession stands, and mobile devices.
Seamless integration with back end
It's important that the flow of information between the front-end and the back-end is smooth. For instance, offering an expansive choice of F&B, with flexible pricing adds to the experience. For this to work, coordinating with vendors, field service, and workforce management for personnel is essential.
Effective pricing and billing
While 2018 brought with it a 4.8% increase in ticket sales, ticket prices are often the biggest deterrent to movie watching. Cinema chains need flexibility with ticket pricing such as pricing by age group/type of movie/day of the week/time of the day, with the ability to recognise revenue from tickets booked by subscribers.
Revenue recognition calculations based on number of tickets sold per movie allows access to better data and visibility over demand while providing flexibility and choice across different price levels.
How can SAP help?
Digital disruption is happening everywhere. Companies are either disrupting or getting disrupted and digital transformation is necessary to thrive post disruption. SAP is uniquely positioned to enable our customers' digital transformation across all key aspects of their business value chain with industry leading portfolio of cloud solutions.
Here's how SAP can drive digital transformation:
SAP Customer Cloud drives 4th generation customer engagement and commerce for the digital era, with a focus on the end user.
The most valuable asset in any organization is its personnel. SAP can digitize the entire workforce across employees, and contractors, with SuccessFactors and Fieldglass, to ensure maximum potential and value from workforce.
Cost control is a top priority for management. SAP can help digitize spend across direct and indirect expenses, travel, and contingent labour.
SAP helps seamlessly leverage Internet of Things to enable a new era of productivity gains with Industry 4.0 and NextGen manufacturing to optimize extended supply chain and assets.
SAP creates a Digital Core "infinity loop" that brings together business transactions and intelligent insights through SAP S/4HANA on-premise and cloud editions.
With the SAP Cloud Platform, customers have access to a best in class technology platform for new application development, extensions and integration across the SAP product portfolio.
The value of SAP is in the integration we deliver across every part of the digital business framework. At Savantis, we work towards understanding your needs and enabling digital transformation. As an SAP Gold Partner, we address the unique business needs of cinemas through innovation and deep knowledge, aided by intelligent cloud based systems like S/4HANA. Feel free to get in touch with us for more questions.