Customer Experience: Demystifying C/4HANA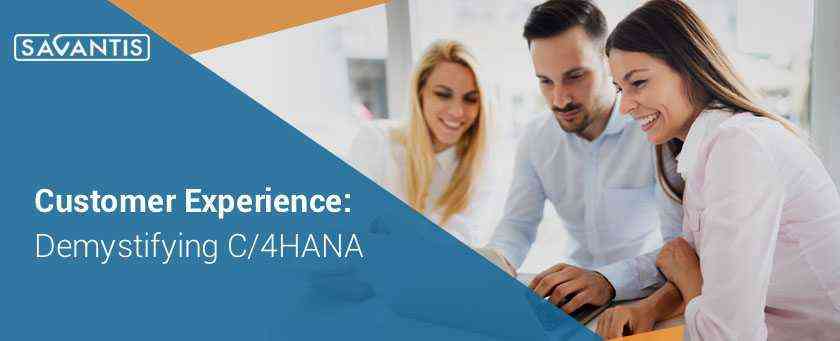 C/4HANA is a suite of solutions put together to improve customer relations through digitization and automation. It is changing the playing field by offering various cloud-based services under a single umbrella.
Making of C/4HANA
Gigya, CallidusCloud, Hybris, and CoreSystems Brands are gradually being replaced by C/4HANA, getting integrated into Customer Data Cloud, SAP Hybris Sales Cloud, and the Service Cloud, respectively. The services offered within the scope of C/4HANA will be enriched by the SAP HANA Data Management Suite, SAP Leonardo and the SCP, and finally, S/4HANA.
Customer-oriented processes that have been split by applications and manual processes are the target of this integration. The suite of services offered now are both on-premise and cloud-based.
Combining all the unique capabilities on the SAP Cloud Platform, C/4HANA allows the organization and its personnel to have a bird's eye view of their customers, with differential access. This is enriched by process specific information based on legislations and process necessities, streamlining the SAP Customer Experience.
The Goal of C/4HANA
C/4HANA aspires to evolve from Customer Relationship Management to Customer Knowledge Management. Starting from a customer's contact details or references, personnel should be able to access their order history in the online channel. This provides an integrated view of each customer allowing the main customer conflicts and tickets, to be visible at a glance. This further helps create a targeted marketing campaign on offline channels, engage using highly personalized messages on the online store appreciating their loyalty when they return for more purchases. All this begins with customer data.
Ideally, this should be happening today. However, this cycle of events described require information from different departments, often at the expense of several hours or days worth of data collection, compilation, and execution. C/4HANA aspires to change this by bringing it all under one roof.
Intelligent, intuitive engagement
With AI and ML capabilities built in, customers can explore and create better customer experiences. Integration with SAP Leonardo will allow customers to install several "ready to deploy" intelligent applications capable of managing and enhancing their journey. The feature set is expansive and includes image recognition, augmented reality, identity checking through facial recognition, text extraction for various applications, and more.
Conversational AI for digital business assistants, chatbots for check-in, query resolution, and customer service in general help cater to a wider target demographic. Cargo handling and supply chain management is made more secure using the SAP Cloud Platform Blockchain service.
Organizational Overhaul
As different services get integrated and there is more connectivity, it is increasingly important to link people and processes in the same way to achieve the maximum potential. For instance, if a company has nearly a hundred thousand customers, it is important to find ways to develop and maintain a robust one-on-one relationship with each customer.
Most companies have one or more teams that serve as Customer Community Managers, responsible for catering to a specific set of buyer personas and creating personalized strategies through digital promotion engines. Another team will be in charge of delivering 24×7 Omnichannel Support Services.
With C/4HANA, these disparate teams will have seamless accessibility to customer data to create a relationship with the customer that allows each interaction to be similar to a one on one.
Looking ahead
While C/4HANA offers a multitude of capabilities under its purview, it needs to be integrated with care. The pros include being able to digitize any process by leveraging standard processes provided by the C/4HANA Suite. This entices customers and has them anticipating lucrative MicroServices and "C/4 Suite as a Service" license modelling.
Challenges with integration among the various suite services is a hurdle for SAP developers & customers alike. System architects need to be competent and make the right decisions to fully integrate the suite, thereby providing a seamless connection between front and back office services.
At Savantis, our unique approach to transformation ensures a smooth and streamlined implementation with reduced time-to-value. We have worked with industry leaders to help them identify challenges and transform functions with C/4HANA to optimize their ROI. Get in touch with our experts today.