What is SAP C/4HANA and Why You Should Implement It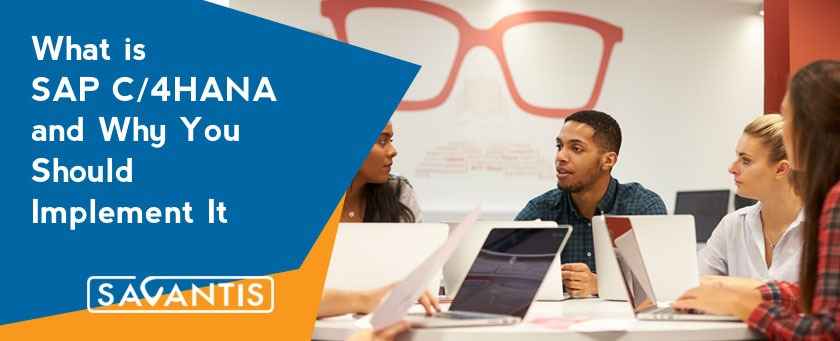 While bad customer experience can cost a business billions of dollars, great experience can create a compounding effect on profitability. Customer experience leaders achieve compound average revenue growth of 17% over five years, and sometimes up to 25%.
Among the different enablers of customer experience, SAP has a unique positioning to help organizations achieve consumer-driven growth. Leading analysts like Gartner recognize SAP as a leader in digital commerce because only SAP is able to support B2C, B2B, and B2B2C from a single platform – as well as pre-built integration with ERP.
It's no longer a debate that businesses must focus on improving the quality of customer experience to drive long-term growth. Following are the four trends driving change in today's customer experience:
Single view of customer: Customer at the center of the business (B2B2C)
Trusted data: Data needed for personalization but not at all cost
Customers for life: From selling products to services
Holistic customer experience: Requires connecting front and back office
To address these trends, SAP announced a new suite of solutions to provide a wholesome customer experience called SAP C/4HANA at the company's annual Sapphire Now conference.
SAP C/4HANA is a gamut of solutions combined together to achieve exemplary customer experience (CX). Market leaders such as Hybris, Gigya and CallidusCloud, that specialize in critical aspects that matter to CX, are now a part of SAP C/4HANA. This transformation of SAP's CX solution prepares businesses to move away from legacy systems that focus only on sales. SAP C/4HANA is created to help businesses focus more on the consumer, humanizing the process.
Unified visualization, trusted data, increased LTV, and holistic experience are key drivers of a great customer experience, followed by increased customer retention. This indicates that the solution can support B2B, B2C, B2B2C, and other complex business models.
What is SAP C/4HANA?
Traditionally, SAP Hybris was a product content management software. It also includes experience management, personalization and order management. However, over time Hybris evolved into a full-suite customer experience management solution.
With acquisitions such as Gigya, Callidus Cloud, and Core Systems, C/4HANA supports all front-office functions, including consumer data protection, marketing, commerce, sales and customer service. SAP C/4HANA gives a guided roadmap to bring together five major elements that help in creating a great customer experience. These elements are delivered through different cloud solutions:  Customer Data Cloud, Marketing Cloud, Commerce Cloud, Sales Cloud, and Service Cloud. The best part is that these cloud solutions can be deployed as standalone products or as in a combination.
Most often, SAP C/4HANA is mixed with SAP CRM. The latter is a separate product focusing on the call center-oriented customer service functions. Let's explore the different business capabilities of this suite of customer-centric solutions.
Capabilities of SAP C/4HANA
SAP C/4HANA is designed to facilitate optimal ROI by delivering the best possible customer experience. It can help businesses unify the experience across touchpoints driven by different functions such as data profiling, marketing communication, transaction fulfillment, sales, and service delivery. To summarize, C/4HANA depends on five different modules of cloud solutions:
The Customer Data Cloud, formerly known as Gigya supports to develop and maintain a comprehensive and consistent customer identity across all channels. Some of its major functionalities include securing customer identity, enabling customer consent, single unified customer profile, building digital relationships, driving registrations and engagement, and addressing GDPR requirements.
The SAP Marketing Cloud which functioned as the former SAP Hybris delivers a single view of customer data for marketing purposes, personalised experiences at scale and intelligent marketing. It fulfils some critical marketing functions such as consumer and customer profiling segments, campaigns and customer journeys, customer identity management, lead management and nurturing, marketing planning, performance, and analytics.
SAP Commerce Cloud was originally the SAP Hybris Commerce Cloud. Now, it runs on Microsoft Azure Hyperscale Platform. It supports B2C, B2B, and B2B2C models, includes product content and order management, pre-built integrations to other SAP systems, flexibility for innovations, industry accelerators, commerce for small and midsize enterprises.
SAP Sales Cloud combines the yester SAP Hybris Cloud for Sales with SAP Subscription Billing and CallidusCloud. It is created to help organisations connect and guide customers throughout their buying journey. This includes Sales Force automation, sales performance management, retail execution, configure price and quote,  subscription billing, sales enablement and learning.
SAP Service Cloud combines the traditional SAP Hybris Cloud for Service with SAP Customer Engagement Center, Coresystems and SAP Self Service Accelerator for Utilities by SEW. It allows businesses to offer multiple service channels, access complete and contextual customer information, and gain real-time insight into call center, self-service and field service performance.
SAP C/4HANA gives you the visibility and control of your highly distributed data that is not only found in transactional systems but also scattered across products, machines, and people. To make better use of data is just one of the many reasons businesses should be looking at implementing SAP C/4HANA.
Why Implement C/4HANA?
Today's customer expects personalization. You can no longer enrich customer experience with generalized communication and information. With SAP C/4HANA, you can deliver personalized experiences while protecting privacy of each customer.
Leveraging machine learning with customer data, SAP C/4HANA delivers intelligent customer engagements, through microservices, in real-time across multiple verticals like sales, customer service, marketing and commerce. Recognizing these capabilities, SAP C/4HANA got a Leader rating in the Ovum Decision Matrix (ODM) report on the topic of Customer Engagement Platforms as seen in the figure.
C/4HANA is about building stronger, trusted relationships with your customers. This customer experience suite comes with cloud solutions for customer data, sales, service, commerce and marketing. It enables engagement in real-time with the use of latest technologies like machine learning. With its adoption, your speed to market is dramatically improved.
Some other capabilities such as built-in flexibility, unified platform, industry-specificities, go-to-market model specialization, and pre-built integrations make it a robust solution for end-to-end commerce.
Consulting research tools such as Gartner Matrix Quadrant and Ovum Decision Matrix have recognized and acknowledged its authority and leadership in the digital commerce space. Today, 77% of transactions already touch SAP. This is why only SAP can provide the single view for customer seamlessly connecting back-office and front-office functions.
Karma Automotive, a luxury hybrid sports car manufacturer, have realized this key benefit of being able to connect front office functions with all the back-office operations. With implementation of SAP S/4HANA, SAP Fiori, SAP Cloud Platform, SAP Cloud for Customer, and SAP Commerce, they have one system of record, one version of truth and one platform to ensure 100% customer satisfaction. Read the full case study in the SAP Golden Guide.
Embark on your customer experience transformation journey
With both B2B and B2C customers researching online for their purchase, you must ensure that you create a simple and intuitive process for the customer from path-to-purchase. You must eliminate any possible fragmentation and any barriers that could obstruct customer journey.
SAP's agenda for you, with this tool is to raise to the top #1 or #2 in your domain expertise. A competitive edge created by impeccable customer experience is what can be achieved with SAP C/4HANA. SAP is all set to lead the customer experience revolution with SAP C/4HANA.
With Savantis, you can drive customer-centric innovation for your business by implementing the fourth-generation CRM: SAP C/4HANA. We have worked with industry leaders to help them identify and transform functions to optimize their ROI. We work closely with you to understand all the nuances specific to your organization, and integrate both SAP S/4HANA and SAP C/4HANA with your back-office and front-office processes.
With our unique approach to transformation, we ensure a smooth implementation with reduced time-to-value. ArcLight Cinemas, an upscale movie theater chain with over 1400 employees, goes live with SAP S/4HANA in just 12 weeks following Savantis' Rapid Implementation Methodology. Read case study. Savantis is now helping them implement SAP C/4HANA.
We are here to accompany you in your adoption journey to SAP C/4HANA. Get in touch with our experts today.