Join Savantis at Raving NEXT, January 28-30, 2019 at Temecula, CA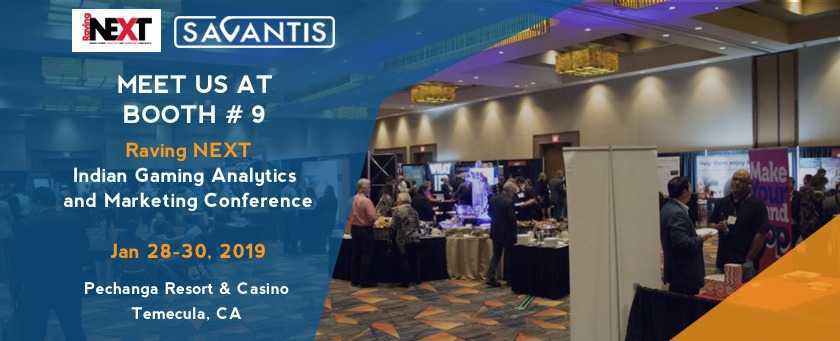 Join Savantis at Booth # 9 at Raving NEXT, Jan 28-30, 2019
Pechanga Resort & Casino — Indian Gaming Analytics and Marketing Conference
Temecula, CA
Raving NEXT is the longest-running marketing and analytics conference specifically for Indian Gaming executives. This three day conference and tradeshow, has been serving the Tribal gaming community with in-depth training and education since 2001.
Decision-makers and influencers such as GMs, Marketing Directors and Managers, and Tribal Council Members from US and Tribal Casinos attend every year. This conference is organized by Raving which is a full-service, Native-owned, casino and hospitality company.
Meet us at Booth # 9 at Raving NEXT 2019 — the only conference dedicated to Indian Gaming marketing and data analytics.
About Savantis
:
At Savantis, we're solving real business challenges for our customers through innovation and deep industry knowledge. Our suite of enterprise solutions and services enables decision-makers to meet their goals. We have helped some of the industry leaders from hospitality, entertainment, and retail, transform digitally to better serve evolving customer needs and expectations. We leverage leading partner technologies from SAP, SFDC, Extreme Networks, Qlik etc., to deliver innovative value added solutions.
We help hotels, casinos, resorts and cinemas elevate their guest experience through our omnichannel digital engagement solution – SAMMY. We work closely with hotels and restaurants to understand the nuances specific to their business and identify opportunities for improvement.
Please feel free to get in touch with one of our experts to learn how we can help you embark on this transformation journey.