Join Savantis at CinemaCon 2019, 1-4 April 2019 at Caesars Palace, Las Vegas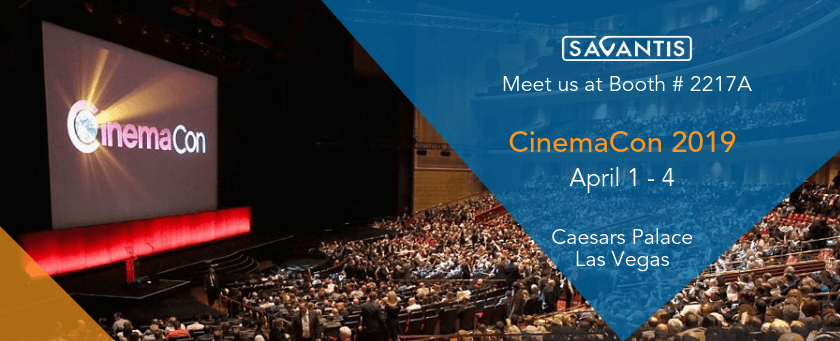 Join Savantis at Booth # 2217A at CinemaCon 2019, 1-4 April 2019
Caesars Palace
Las Vegas
CinemaCon, one of the largest global gathering of movie theatre owners, has evolved to become the most important event for the worldwide motion picture theatre industry with participants from more than 80 countries.
This year, Savantis will talk about how cinemas can provide a seamless customer experience by connecting front office functions with back office processes. Join us in a discussion of technologies that can help cinemas embark on digital transformation. Experience our solutions and transformation case studies on Booth # 2217A.
Savantis combines the latest in mobile technology, methods of engagement, and system integration to deliver digital transformation, results that matter, and long lasting business value. With Savantis solutions, you can quickly create and deploy solutions for challenges and opportunities across customer insights and acquisition, customer experience and engagement, customer loyalty, IT operational efficiency, staff productivity, and system integration.
About CinemaCon:
CinemaCon 2019 will jump start the excitement and buzz that surrounds the summer box office. It will appeal to and attract all facets of the international motion picture theater industry—exhibition, distribution, marketing, publicity and advertising, internet and social media. 
About Savantis
:
At Savantis, we're solving real business challenges for our customers through innovation and deep industry knowledge. Our suite of enterprise solutions and services enables decision-makers to meet their goals. We have helped some of the industry leaders from hospitality, entertainment, and retail, transform digitally to better serve evolving customer needs and expectations. We leverage leading partner technologies from SAP, SFDC, Extreme Networks, Qlik etc., to deliver innovative value added solutions.
We help hotels, casinos, resorts and cinemas elevate their guest experience through our omnichannel digital engagement solution – SAMMY. We work closely with hotels and restaurants to understand the nuances specific to their business and identify opportunities for improvement.
Please feel free to get in touch with one of our experts to learn how we can help you embark on this transformation journey.